Simple comfort food!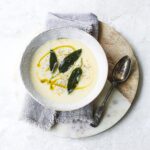 Ingredients
750g parsnips, peeled
1 onion, chopped
1 whole head of peeled garlic cloves
1 litre vegetable stock
2 tablespoons maple syrup
a splash of olive oil
a few sage leaves
METHOD
Place the peeled parsnips in a saucepan with the chopped onion. Add the peeled garlic cloves and then pour over the vegetable stock. Simmer until tender.
Drizzle in the maple syrup and then blend until smooth.
In a small frying pan add a splash of olive oil and fry a few sage leaves, just a minute on each side so they crisp up.
To serve, heat the soup through, add a drizzle of olive oil and a few crispy leaves on top of each bowl.
Serve with toasted, buttered sourdough.