These are simply heaven!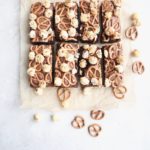 Ingredients
175g unsalted butter

200g dark chocolate with 70% cocoa solids

250g caster sugar

3 eggs

115g plain flour

1 tsp vanilla bean paste

150g salted pretzels

a handful toffee popcorn
METHOD
Preheat your oven to 160c/320f/gas 3. Grease and baking parchment line a 20cm x 20cm brownie tin.

In a medium bowl, melt the butter and sugar together either over a pan of simmering water or in a microwave.  

Meanwhile, take a mixing bowl, and whisk together the sugar, eggs and vanilla until pale. I find using a whisk is the best way to beat it quickly.

Pour the melted chocolate and butter over the eggs and sugar and, still using your whisk,  mix to combine thoroughly. Add the flour, mix again, and then pour into the prepared brownie tin.

Dot the top with salted pretzels and toffee popcorn and place in your preheated oven for around 40 minutes. (The trick is to be really brave and take them out when they are still rather wobbly and undercooked so you end up with the super gooey brownies).

Take the brownies from the oven and allow them to cool in the tin before taking them out, placing them on a board and then putting them in your fridge for a few hours to really set. Once chilled, remove them from the fridge and use a clean knife to cut neat brownie bars.Serve at just below room temperature scattered with extra toffee popcorn and pretzels.