Pumpkins have officially hit and their warm orange glow is calling. I created this recipe for Country Life magazine and as its printed just before Halloween and Bonfire night I thought it would good to have something warming you can eat outside that will also deliver flavoursome heaven.
What are your plans for Bonfire Night? I'd love to hear below…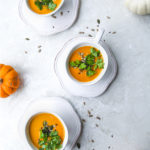 Ingredients
2 tablespoons olive oil

1 onion, chopped

1 carrot, chopped

1 fennel bulb, chopped, plus fronds for serving

2 tablespoons tomato paste

1 pound peeled and deveined medium shrimp

2 8-ounce bottles clam juice

1 14.5-ounce can diced tomatoes

kosher salt and black pepper
Instructions
Heat the oil in a large saucepan over medium heat. Add the onion, carrot, and chopped fennel and cook until softened, 6 to 8 minutes. Stir in the tomato paste.
Add the shrimp, clam juice, tomatoes and their juices, and 1½ cups water to the saucepan. Season with ½ teaspoon salt and ¼ teaspoon pepper. Simmer until the shrimp are opaque, about 2 minutes. Sprinkle with the fennel fronds.