Delicious flavours with a super easy bisque sauce.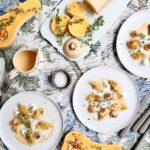 Ingredients
FOR THE GNOCCHI
400g baking potatoes
400g butternut squash
200g plain flour (plus more for dusting)
2 eggs
FOR THE SCALLOPS AND SAUCE12 scallops with roe
1 shallot, finely sliced
4 tbsp mascarpone (plus more to pipe onto plates)
30ml white wine
250ml vegetable stock
1 lemon, for the zest and for squeezing at the end
Lemon thyme to serve
METHOD
I find I get the lightest gnocchi by oven baking potatoes and then scooping out the flesh. Steam the butternut and then pass the potatoes and butternut through a ricer and into a large bowl.
Add the eggs, a little seasoning and then heap everything onto a clean surface. Sprinkle over the flour and then use your hands to bring it altogether. You may need to add more flour if you find it too sticky.
Knead briefly so that it all comes together to a dough. Take chunks off at a time and roll them out to long sausages and then cut them into bite sized pillows. Have a tray ready, lightly floured, to store the gnocchi in a single layer.
Bring a large pan of salted water to a boil and then drop the gnocchi, in batches, into the water. When the gnocchi floats, it's ready to come out. The gnocchi will keep, refrigerated and covered, for 24 hours at this stage – something which makes this a useful dinner party recipe.
Take a large frying pan and add butter and olive oil. Pan fry the gnocchi in batches until golden on both sides. Keep warm on a plate in a low oven.
Using the same pan, fry the shallot until soft. Add the scallop roes and cook for several minutes and cooked through. Add a splash of white wine, reduce, add seasoning and then add the mascarpone and heat until melted.
Pour everything into a blender along with the vegetable stock and process to a smooth bisque. Taste for seasoning.
Fry the scallops in a little butter for just a couple of minutes on each side (depending on size).
To serve, take the gnocchi out of the oven and toss with the lemon zest. Arrange the pieces on plates with the cooked scallops amongst them, pipe small mounds of mascarpone, pour over the bisque, scatter with some lemon thyme and add a final squeeze of lemon.