Nothing can prepare you for just how fabulous those burnt edges actually taste!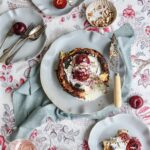 Ingredients
600g cream cheese
100g caster sugar
4 eggs
300g double cream
1 tsp vanilla
3 tbs plain flour
4 plums, halved
2 tbsp caster sugar
1 tsp vanilla
50g flaked almonds, lightly toasted
METHOD
Prepare a 20cm deep sided cake tin by lining with parchment paper. Use a single piece and scrunch it in. This isn't a cake for perfect sides. Preheat your oven to 200c/400f/gas 6.
Place all the cheesecake ingredients into a blender and process until smooth. Pour the mixture into the prepared tin.
Bake for around 45-50 minutes when the top will be browned but still jiggly. Remove from the oven to cool to room temperature.
Wrap the plums in foil with the vanilla and butter and bake alongside the cheesecake for around 15 minutes when they should be rich and juicy but still able to hold their shape.
Place the cheesecake onto a serving plate and top with the cooked plums and any juices and scatter lightly toasted flaked almonds.