A simple light lunch on sourdough that's more of an assemble than a recipe but the watermelon radish gives such impact.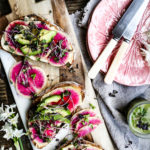 Ingredients
2 slices sourdough

4 tbs hummus

4 watermelon radishes

1 avocado

Fresh cress or other sprouting shoots
METHOD
Spread the toasted sourdough with hummus and then arrange slices of water melon radish over the top. Toss slices of avocado in lemon juice and then arrange them over the radish and add a scattering of cress. Season and serve.