Bring out your inner pastry chef with this showstopper of a tart that reminds us why sweet and salty is such a winning combination.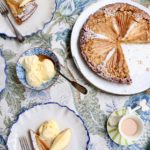 Ingredients
FOR THE PASTRY

125g unsalted butter, softened

125g caster sugar

3 egg yolks

250g plain flour

Pinch of salt

FOR THE ALMOND AND DULCE DE LECHE FILLING

100g ground almonds

1 egg

100g golden caster sugar

100g unsalted butter

100g dulce de leche

3 ripe pears, peeled, halved, cored (plus more to serve)

75g salted almonds

TO SERVE

30g icing sugar

500ml vanilla ice cream

200g Dulce de Leche
METHOD
Make the pastry in a processor. Add the sugar and butter to the bowl and process until fluffy. Add the egg yolks and combine again followed by the flour and pinch of salt. Process until just combined and then tip it out onto a piece of cling film. Wrap the cling film around and then massage it in the cling film to bring it together. Shape the dough into a flat disc and then refrigerate until firm and chilled.
Prepare the filling by placing the ground almonds, egg, golden caster sugar, butter and dulce de leche in the small bowl of a processor and process until all mixed and uniform in colour. Set aside until ready to use.
Roll out the pastry to the thickness of a pound coin and then line a 22cm loose bottomed tart tin. Return the lined tin to the refrigerator and chill well.
Preheat your oven to 200c/400f/gas 6. Take the chilled tart tin and line it with scrunched up baking parchment and baking beans before blind baking for 15 to 20 minutes. Remove the tart case from the oven and remove the beans and parchment. Return it to the oven again for 5 minutes but you may need to place foil over the sides to prevent over browning. Reduce the oven temperature to 180c/350f/gas 4.
Take the tart case and fill it with almond and dulce de leche filling. Smooth it out evenly with the back of a spoon. Slice the pears length ways but still keeping them together. Flay the pieces slightly and then arrange the halves evenly around the tart with the smaller end of each at the centre.