A gorgeous starter or stand alone light lunch that's packed full of delicious flavours.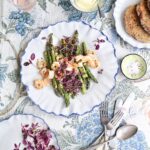 Ingredients
FOR THE SAFFRON MAYO
1/4 tsp saffron threads
2 egg yolks
1/2 tsp mustard powder
1/2 tsp salt
1/2 lemon, juice of
200ml olive oil
FOR THE TOASTS
300g asparagus
150g prawns
1/2 tsp chilli flakes
2 slices sourdough, toasted
amaranth to garish
1 lemon
METHOD
Place the saffron threads in a small bowl with a splash of boiling water. Leave to infuse for 15 minutes.
To the bowl of a food processor add the egg yolks, mustard powder and salt and process. With the motor running slowly pour in a thin but steady stream of oil. Once thickened, add the saffron threads in their water and lemon juice and then briefly process again. Taste for balance and then set aside. 
Toss the asparagus spears in olive oil and then add to a hot griddle pan until lightly charred. Add the prawns, they will only need a couple of minutes, and then scatter over some chilli flakes and sea salt. 
Spread the toasted sourdough with saffron mayo and then arrange the asparagus on top followed by the prawns and then scatter over amaranth. Add a squeeze of lemon and serve the remaining saffron mayo on the side.