Who doesn't enjoy a delicious slice of banana and chocolate bread and this one has an exceptional game changer of a crust.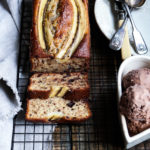 Ingredients
3 bananas (2 mashed and one for the top)

150ml vegetable oil

2 eggs

150g caster sugar

1/2 tsp vanilla bean paste

150g self raising flour

1/2 tsp baking powder

100g dark chocolate

2 tbsp maple syrup

a couple of pinches sea salt
METHOD
Preheat your oven to 180c/350f and grease proof paper line a loaf tin.
Combine the mashed bananas, eggs, sugar, vanilla and oil in a boil and whisk to combine. 
Add the chopped chocolate, flour and baking powder and mix well.
Pour into the prepared tin and bake for around 30 minutes.
Remove from the loaf tin to wire rack and brush, whilst still hot, with maple syrup and sprinkle over the salt. Serve warm or cold, for breakfast or as a yummy snack anytime.