.
These are the brownies I made with Perrie from Little Mix at her house and Jesy liked them so much we made another batch for her birthday. So many of you have made them time and time again – such an honour – and I've proudly shared some of your photos on instagram in my stories so please do say hello and share the brownie love.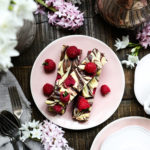 Ingredients
175g unsalted butter

200g dark chocolate with 70% cocoa solids ( I use Green and Blacks)

250g caster sugar

3 eggs

115g plain flour

1 tsp vanilla bean paste

FOR THE CREAM CHEESE TOPPING

150g cream cheese

1 egg yolk

A sprinkling sugar

150g fresh raspberries
METHOD
Preheat your oven to 160c/320f/gas 3. Grease and baking parchment line a 20cm x 20cm brownie tin.

In a medium bowl, melt the butter and sugar together either over a pan of simmering water or in a microwave.  
Meanwhile, take a mixing bowl, and whisk together the sugar, eggs and vanilla until pale. I find using a whisk is the best way to beat it quickly.
Pour the melted chocolate and butter over the eggs and sugar and, still using your whisk,  mix to combine thoroughly. Add the flour, mix again, and then pour into the prepared brownie tin.
In a separate bowl, mix together the cream cheese, egg yolk and a little sugar. Mix well with a fork until there are no lumps, and then drop spoonfuls onto the brownie mixture. Take a toothpick and drag it through to create a pretty pattern. Dot the top with raspberries and place in your preheated oven for around 30 minutes. (The trick is to be really brave and take them out when they are still rather wobbly and undercooked so you end up with the gooiest brownies EVER).
Take the brownies from the oven and allow them to cool in the tin before taking them out, placing them on a board and then putting them in your fridge for a few hours to really set. Once chilled, remove them from the fridge and use a clean knife to cut neat brownie bars.Serve at just below room temperature.
For Perrie and the Little Mix girls I served them with extra raspberries, vanilla ice cream and a few sprigs of lemon thyme to make it all look extra pretty.