This recipe was originally developed for Oka, a fabulous homewares store, and all the props in
the image were supplied by them – all so pretty. As for the tart, fabulous flavours and easy to make for your next gathering.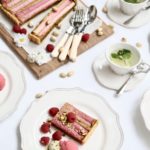 Ingredients
For the raspberry and rose sorbet:

160g caster sugar

350g fresh raspberries

1/2 lemon, juice of

1/4 tsp rosewater

For the tart:

1 sheet shortcrust pastry

150g pistachios, shelled

150g unsalted butter

150g caster sugar

2 eggs

1 tsp vanilla bean paste

800g fresh rhubarb

To serve:

Fresh raspberries

Chopped pistachios

Pistachio ice cream
METHOD
To make the sorbet, add the sugar to a saucepan with 300ml water and then reduce over a high heat until syrupy or the short thread stage. Place the raspberries into the bowl of a processor with the lemon juice and rosewater and then pour over the hot sugar syrup. Process for a couple of minutes, strain and then freeze. Once frozen, return to the processor to break up the crystals (but don't allow it to fully melt) and then refreeze after which it is ready.
Take the sheet of pastry and roll it out to fit the tin. I used a fluted, loose bottomed, rectangular tart tin that was 20cm x 30cm but you could also use a round one. Line the tin with the pastry and then place in your refrigerator until fully chilled. 
Preheat your oven to 200c/400f. Fill the tart case with parchment and baking beans before blind baking for 15 minutes. Remove the parchment and baking beans and then return to the oven for a further 10 minutes, when it's lightly golden. Lower the oven temperature to 160c/340f.
Meanwhile, place the pistachios in a blender and process until ground. Tip them into a bowl and set aside. Either in a mixing bowl or using the same blender bowl, add the butter and sugar. Combine until pale and fluffy before adding the eggs and vanilla. Combine again and then add the pistachios into the mixture. Mix until an even colour and then pour into the tart tin. Arrange the rhubarb in long stems across the pistachio frangipane and bake for 35 minutes. Cool slightly and then remove from the tin to a board to cool. 
Serve the tart warm with the raspberry and rose sorbet, fresh raspberries, chopped pistachios and pistachio ice cream.
(For a cheats version of the sorbet, simply buy raspberry sorbet and add a single drop of rosewater to the top of each scoop when serving, but be careful to literally use only a single drop as the goal is 'a hint of' rather than anything too overpowering.)