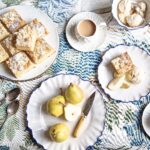 Ingredients
For the clotted cream streusel:
70g clotted cream
140g self raising flour
70g caster sugar
4 pears, ripe (I used Williams)
1/2 lemon
125g unsalted butter, softened
110g clotted cream
275g caster sugar
3 eggs
1 tsp vanilla
1 pinch salt
225g self raising flour
METHOD
Preheat your oven to 170C/350F/Gas 4 and line a 20cm x 20cm baking tin with baking parchment. Use your finger tips to rub everything together. The difference between streusel and crumble is that if you continue rubbing beyond the crumble stage it will form small clumps that hold their shape whilst cooking. Once you've reached the streusel stage place the bowl in the refrigerator while you prepare the pears and make the cake batter.

Peel and core the pears and then toss in lemon juice so they don't brown and set aside.

Put the butter, clotted cream and caster sugar into a bowl. Use electric beaters to mix until fluffy. Add the eggs, vanilla and salt and mix again, followed by the flour.

Pour the cake batter into the prepared cake tin, arrange the slices of pear in neat rows over the top and then sprinkle the chilled streusel to cover the pears.

Bake for 45 - 50 minutes when it should be golden and cooked through. Remove from the oven, cool for 10 minutes in the tin and then move to a wire rack. Serve warm with cinnamon ice cream. It also tastes delicious the next day remaining perfectly moist.