A slightly healthy version of a traditional fluffy waffle but just as delicious.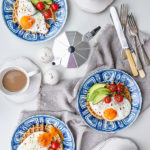 Ingredients
150g wholemeal spelt flour
50g rolled porridge oats
A pinch of salt
2 eggs
1 tbsp light olive oil
200ml oat milk or regular milk
METHOD
Super simple, add the flour, oats and salt to a large bowl. Use a whisk to combine them, and then make a well in the centre. Drop in the eggs, followed by the olive oil and milk, and use the whisk to mix everything together until there are no lumps.
Add a ladle full of batter to the heated waffle irons and cook for a couple of minutes. This batter cooked more quickly than my usual batters so be sure to keep an eye on it.
Fry your eggs with the tomatoes and serve them on top of the waffles with slices of avocado on the side.
Serve on a Sunday with a copy of Country Life magazine.