I am thrilled to share this show-stopping summer treat – the ULTIMATE Lemon Bundt. If you've been searching for a cake that marries the zesty tang of lemons with the sweet allure of lemon buttercream, look no further. This deceptively easy bundt cake will be a great addition to your baking repertoire so grab your apron, preheat the oven, and join me in citrus bliss.
The star of the show is, without a doubt, the vibrant lemon that infuses every crumb of the bundt cake. The bright and fresh aroma will transport you to the Amalfi coast, where the lemon groves are bursting with the largest lemons you've ever seen! With each bite, your palate will awaken to a burst of citrus flavour that balances sweetness with a delightful tang. But that's not all – prepare to be captivated by the luscious lemon curd filling that adds a delightful surprise in the centre of the cake, making every slice a joy!.
The bundt is covered all over in a simple but perfect lemon glaze and then the crowning glory is a fluffy lemon buttercream that swirls all around the top. I used a piping bag – they are surprisingly easy – but if that isn't for you you can use a palette knife to spread it over. The whole thing is light as air and divinely sweet, and yet we still added mini meringues, dollops of lemon curd and some flowers. Sometimes more really is more!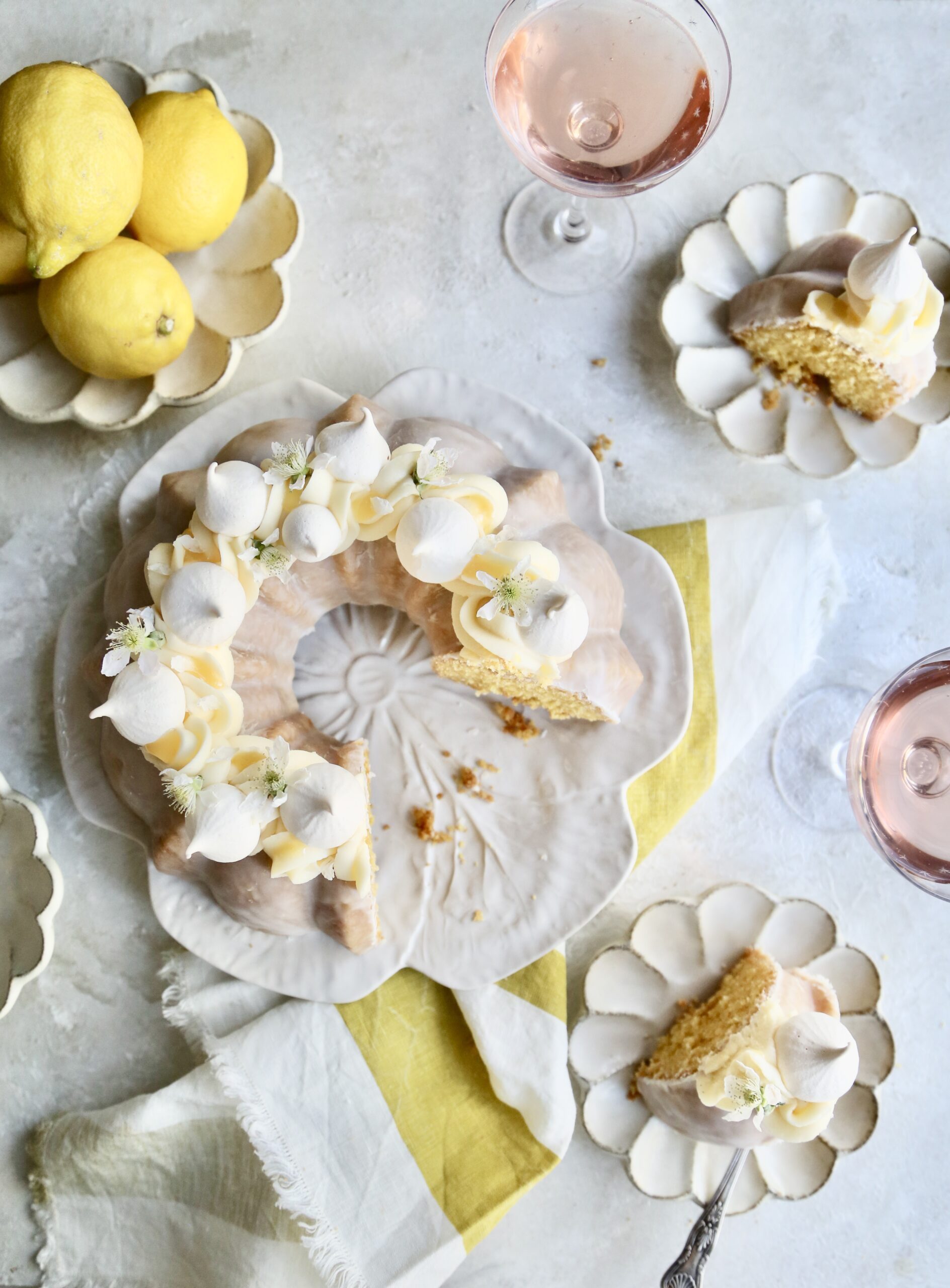 Ingredients
For the bundt tin:

25g melted butter

2 tbsp plain flour

For the bundt:

325g golden caster sugar

1 lemon, zest of

250g unsalted butter, softened

4 eggs

1 tsp vanilla bean paste

4 tbsp creme fraiche

250g self raising flour

For the lemon glaze:

400g icing sugar

2 lemons, juice of (depends how juicy they are though)

For the lemon curd buttercream:

4 tbsp lemon curd

150g unsalted butter

300g icing sugar

Mini meringues and lemon curd to decorate plus some white edible flowers if you can find them.
METHOD
Preheat your oven to 160c fan / 180c fan / 350 f.
Brush a bundt tin with melted butter and dust with flour. Shake out any excess.
Place the sugar and lemon zest into a bowl and rub them together so the zest really releases its lemon flavour. Set aside until ready to bake.
Place the butter and lemon sugar in large mixing bowl and use electric beaters to mix until pale and fluffy. Add the eggs, one at a time, beating between each addition. Add the vanilla and creme fraiche, mix again and then fold though the flour. Pour into the prepared tin and bake for 45-50 minutes. Cool in the tin for 15 minutes and then invert onto a wire rack to cool completely.
Make the glaze by combining the icing sugar and lemon juice. Mix well until you have smooth, thick but pourable glaze. Place a plate beneath the wire rack and then pour all over the bundt. Scrape the glaze from the plate below to fill any gaps so the entire bundt is glazed.
Make the buttercream but mixing butter, lemon curd and icing sugar together until smooth. Adjust the measurements slightly if needed. Place the buttercream into a piping bag fitted with a star tip and pipe a spiral all across the top.
Decorate with mini meringues, dots of extra lemon curd and edible flowers.