Apple pie perfection with soft pastry in adorable apple shapes. See here for the cutter.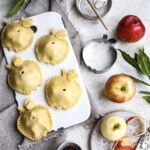 Ingredients
FOR THE PASTRY
200g plain flour
100g unsalted butter, cubed, cold
pinch of salt
50ml ice water
FOR THE FILLING
6 apples, peeled and diced
3 tbs dulce de leche/caramel
75g caster sugar
2 tsp vanilla
45g corn flour
METHOD
Preheat your oven to 180c/170c fan/350f and line a baking sheet with parchment paper.
Use a processor for best results: put the flour, butter and salt in the bowl and process until it comes together and then add the ice water to gather up any dry flakes. Bring together with your hands and shape into a disc. Cover with cling film and refrigerate for half an hour. Or by hand: mix four and salt together in a bowl and then cut in the butter until crumbly. Bring together in your hands and add water to gather the flaky pieces. Shape into a disc and cover with cling film and refrigerate for half an hour.
Prepare the filling by tossing all the ingredients together in a bowl.
Roll the dough out until the thickness of a pound coin and cut in half.  Working one pie at a time, spoon a mound of apple onto the dough and then gently rest a piece of dough over the top. press around the apple in side to limit the amount of air and then take the apple cutter and cut the pie out. Use a fork pressed all around the edges to seal the edges together. Brush with lightly beaten egg and cut a small hole in the top so the air can escape. Repeat with the remaining pies.
Bake the pies for around 25 minutes and then serving warm, dusted with icing sugar.