A classic for a reason, so simple and yet so flavoursome and warming with a cup of tea or coffee.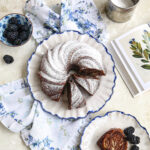 Ingredients
225g unsalted butter, room temperature but not greasy
225g caster sugar
4 eggs
1 tsp vanilla
225g self raising flour
35g cocoa powder
75ml boiling water
Sifted icing sugar to dust
METHOD
Preheat your oven to 180c/170c fan/350f. Prepare your bundt tin by brushing with melting butter and sprinkling flour.
Add the butter and sugar to the bowl of a stand mixer and beat until very fluffy.  Beat the vanilla and eggs together in a small bowl and then add them little by little to the stand mixer. Add the flour and then mix until just combined. Pour half the mixture into a separate bowl.
Place the cocoa powder in a small bowl with the boiling water and mix to a paste. Add it to one of the bowls of mixture and mix in.
Pour the batters into the prepared tin and then use a skewer to swirl them around. Bake for 40 minutes or until a skewer comes out clean.
Allow the bundt to cool in the tin for 10 minutes before inverting onto a wire rack. Dust with icing sugar and serve.