The humble hedgerow blackberry is turned into something rather more grown up when combined with violet syrup.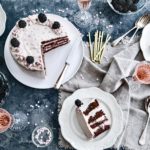 Ingredients
250g self raising flour

250g golden caster sugar

100g cocoa powder

2 tsp baking powder

1 tsp salt

3 eggs

2 egg yolks

280ml buttermilk

225ml vegetable oil

2 tsp vanilla bean paste

250ml boiling instant coffee

750g mascarpone

600ml double cream

75g caster sugar

500g blackberries

1 tbsp violet syrup (but test for strength as different brands vary and the goal is 'a hint of' rather than anything more over powering)

2 Tbsp (18 g) raw sesame seeds

1 Tbsp (15 ml) olive oil

pinch salt
METHOD
Preheat your oven to 170c/320f/gas 3 and grease and line 2 20cm loose bottomed cake tins.
Unashamedly simple, take a large bowl and add the flour, sugar, cocoa powder, baking powder and salt. Using electric beater on a slow speed mix everything together.
Make a well in the centre of the dry ingredients and then add the eggs, yolks, buttermilk, vegetable oil, vanilla bean paste and cup of instant coffee. Use the electric beaters to combine the ingredients until smooth.
Divide the cake batter between the prepared tins and bake for around 30 minutes or until a skewer comes out clean.
Once cooked, remove the cakes from the oven and cool completely on wire racks before slicing them in half, giving you 4 even layers.
In a large bowl add half the mascarpone, half the double cream, 150g of the blackberries, half the sugar and half the violet syrup. Use electric beaters to combine and squash the blackberries, which will turn the mascarpone lilac. Use this to layer between the layers of the chocolate cake.
Place the remaining halves of the mascarpone, double cream, violet syrup and sugar into a clean bowl and then use the back of fork to squash the juice out 75g of blackberries through a sieve and onto the mascarpone so it is also coloured but doesn't have seeds in it. Use this to coat the outside of the cake and to pipe stars on the top.
Decorate the top with blackberries and any sugar decorations you think would be pretty. I used pink and white stars. Serve with extra blackberries.