An easy, fuss free dinner, prepared on a single oven tray.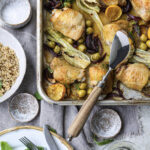 Ingredients
8 chicken thighs or 4 skin on chicken breasts
2 red onions, peeled and quartered
3 lemons
2 fennel bulbs. quartered
3 rosemary sprigs
50 ml olive oil
150ml white wine
200g olives
METHOD
Preheat your oven to 180c/350f.
Take a baking tray and simply add the chicken pieces, onions, fennel and rosemary. Squeeze 2 of the lemons over everything and add them to the tray. Pour over the white wine and olive oil and then lightly toss everything.
Place the tray in the oven for half an hour or until the pieces are browned, the skin crisped and the chicken cooked through.
Take the tray from the oven, scatter over the olives and add thin slices of lemon. Serve immediately with brown rice and salad.