Homemade pasta is a so much more delicate than shop bought so it's worth making the time for. This simple sauce allows the pasta to take centre stage.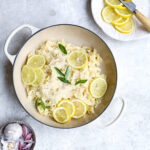 Ingredients
200g '00' flour
2 eggs
2 lemons, juice and zest
150ml double cream
1 egg yolk
100g Parmesan, grated
1 garlic clove, grated
75ml olive oil
sea salt and black pepper
Lemon verbena or thyme
METHOD
Process the flour and eggs together in a blender until they resemble breadcrumbs.Bring the dough together to form a flat disc and then wrap in cling film and chill for 30 minutes. 
Pass the dough through a pasta machine working it through the varying thicknesses but stopping before the last one (or else it becomes too thin for tagliatelle). Arrange them in nests on a semolina lined tray.
Bring a large pot of salted water to a boil.
In a medium sized bowl mix together the lemon juice and zest, egg yolk, cream and parmesan. Whisk them together
Add the pasta to the boiling water and cook for a couple of minutes. Drain well and toss back in the saucepan over a low heat with olive oil. Pour over the lemon cream sauce and season.
Serve with grated Parmesan, lemon slices and a scattering of herbs. Perfect with a rocket salad on the side.