A super easy weeknight supper that is isn't lacking in a flavour punch!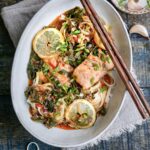 Ingredients
4 salmon fillets
1 red onion, diced
3 spring o ion, white part reserving greens for the end
1 tbs grated ginger
1 clove garlic, crushed
2 tbsp their red curry paste
1 can full far coconut milk
500ml vegetable stock
2 large handfuls each of kale and spinach
400g Udon noodles
METHOD
Fry the red onion in a neutral oil until softening. Add the garlic, ginger and curry paste and stir until fragrant. Pour in the coconut milk and mix well and then as you see it reducing add the stock to loosen the sauce. Place the salmon pieces into the sauce and add the spinach and kale on top. Pop on a lid and allow to steam and wilt the lovely healthy greens!
Remove the lid and have a look at the fish, turning it, and then mix the spinach and kale through the sauce.
Check the fish is cooked and then squeeze over some lemon, and add a few thin slices of lemon for decoration along with the green sliced spring onion pieces to the top.
Serve with the cooked udon noodles (boil as per packet instructions).