The story of Picasso's dinner party inspired this easy and delicious family supper. The story goes that Picasso's mistress made something very similar and from all accounts it was enjoyed enthusiastically. Who doesn't love a one pot wonder, especially when you're having a dinner party? Read more here.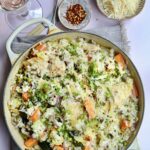 Ingredients
50ml olive oil
4 chicken breast, sliced
200g risotto rice
500ml chicken stock
1 red onion, cut into thin wedges
2 cloves garlic, grated
2 carrots
2 sticks celery
2 courgettes
75g frozen peas
a handful chopped kale
25g butter
75g grated Parmesan plus more to grate
1 spring onion, green part
METHOD
Preheat your oven to 180c/350f.
Heat the olive oil in a large lidded heavy based pan and add the seasoned chicken slices. Cook until they just have colour and then remove to a plate. Add the onion and fry until softening and then add the garlic, cook for a minute or so and then pour in the rice. Toss the rice in the olive oil for a few minutes until evenly coated. Return the chicken to the pot and add the carrots, courgettes, celery, kale and peas. Pour over the stock and then pop it into your oven for around 30 minutes, check to test the rice and also that the liquid hasn't overly evaporated in which you can add a little more.
Remove from the oven and drop in the butter, grated parmesan, spring onions and mix. Return the lid to the pot and leave to rest and become creamy - about 5 minutes.
Serve with grated Parmesan and a salad on the side.