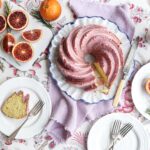 Ingredients
FOR THE CAKE
250g caster sugar
2 blood oranges, zest of
4 eggs
250ml vegetable oil
1 tsp vanilla bean paste
200 soured cream
350g self raising flour
Pinch of salt
FOR THE VANILLA AND BLOOD ORANGE SYRUP
2 tsp vanilla bean paste
150ml strained blood orange juice
75g caster sugar
FOR THE BLOOD ORANGE GLAZE
125g icing sugar, sifted
30ml strained blood orange juice
METHOD
Take a medium sized bowl and add the sugar and zest. Rub the zest into the sugar to really release the flavours and set aside to infuse. 
Meanwhile, preheat your oven to 180c/350f/gas 6 and generously butter a pretty Bundt tin with a diameter of around 25cm.
To a large bowl add the flavoured sugar, eggs, oil, soured cream and vanilla bean paste. Whisk to combine everything. Add the flour and mix again until just combined.
Pour the cake batter into the prepared tin and then bake for around 45-50 minutes or until a skewer comes out clean.
Make the sugar syrup by dissolving the sugar, vanilla and blood orange juice in a small pan over a low heat and then increasing the heat and simmering until it has reduced by half. Set aside until ready to use.
While the cake is cooling in its tin pierce holes with a toothpick and brush the base with the sugar syrup and then once cool enough to handle invert the cake onto a wire rack and brush the syrup all over the top.
Make the glaze by simply mixing the juice into the sifted icing sugar in a medium sized bowl.
When the cake has completely cooled pour over the pink blood orange glaze and then serve. You could decorate the top with extra zest. This cake should keep for a few days in an airtight container.