A refined version of a classic lemon meringue pie with blueberries and confit lemons.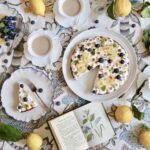 Ingredients
FOR THE CONFIT LEMONS
3 lemons
100g caster sugar
400ml water
FOR THE SWEET ENRICHED PASTRY (Pâte sucrée)
125g unsalted butter, soft
100g caster sugar
4 egg yolks
1/2 tsp vanilla bean paste
250g plain flour
FOR THE LEMON FILLING
3 lemons (juice and zest)
6 eggs
140g caster sugar
220ml double cream
250g blueberries (half for the tart and the rest to decorate)
FOR THE ITALIAN MERINGUE
225g caster sugar
75ml water
4 egg whites
METHOD
Thinly slice the lemons for the confit and place them in saucepan with water over them. Simmer over a low heat for an hour when they will be soft and translucent. Store in the refrigerator with the juices until ready to use. They will keep for a couple of months.
Put the eggs and caster sugar into a bowl and whisk together. Add the cream and the lemon zest and juice. Mix well and refrigerate for a couple of hours for the flavours to infuse.
Make the pastry by placing the butter and sugar in a processor. Process until pale. Add the eggs yolks and vanilla and process again until combined. Add the flour and process until uniform in colour. Bring together in your hands and then wrap in clingfilm. Refrigerate for at least an hour.
Take a 24cm fluted tart tin and line the bottom with a circle of baking parchment. Roll out the pastry to the thickness of a pound coin and line the tart case. Return the pastry to the refrigerator for at least an hour.
Preheat your oven to 180c/350f/gas 4. Once the tart case is chilled, line with baking parchment and fill with baking beans. Bake for 15 minutes before removing the beans. Lower the temperature to 150c/gas 2 and then cover the edges of the tart case with foil to prevent over browning and return to the oven for a further 5 minutes.
Strain the filling mixture into a jug. Arrange the blueberries in the tart case and then pour over the filling. Return to the oven for around 30-40 minutes or until the filling has set but still has a slight jiggle to it. Cool completely.
Have your egg whites ready to go in your stand mixer. Place the sugar in a saucepan and pour over the water. Heat gently, stirring, until it reaches 110c on a sugar thermometer. At that point bring your egg whites to stiff peaks. As the thermometer reaches 120c (if you can hold your nerve that long) pour the sugar onto the egg whites whilst whisking the entire time. Keep whisking until glossy. Pipe onto the tart and then use a blow torch to brown it. Scatter over the extra blueberries, a couple of slices of confit lemon and some pretty micro herbs, if you have them.