Sumptuous layers of meringue and whipped cream with a subtle fragrance of rose and smooth pistachio. A perfect end to a summer lunch beneath shady trees, dappled in sunlight.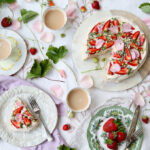 Ingredients
6 free range egg whites
300g caster sugar
50g almonds
50g pistachios, plus a handful to decorate
250g strawberries, chopped
500ml double cream
1/4 tsp rose water
80g icing sugar, plus to dust
Rose petals
Fresh mint
METHOD
Preheat your oven to 180c/350f/gas 3. Take 2 large baking sheets and line them with greaseproof paper. Draw 3 x 20cm circles onto them and then turn the paper over so you will pipe on the clean side.
Place the almonds and pistachios onto a baking sheet and gently roast them for around 8-10 minutes. Turn the oven temperature down to 150c/ Put them in the bowl of a processor and pulse until coarsely ground. Set aside.
Using either a stand mixer or a handheld electric beaters start to beat the egg whites. Start on a slow speed and as the egg whites become more frothy increase the speed. Add the sugar a tablespoon at time until the mixture is stiff and glossy. This will take around 10 minutes. Fold the nuts through with metal spoon or plastic spatula and place the mixture into a piping bag (a freezer bag that you can snip the corner off will also work).
Starting at the centre, pipe a spiral to fill the circles on the greaseproof paper. Place them in your oven for 1 hour, or until they are dry and not sticky. Open the oven door and allow them to cool completely.
Whip the cream and add the rose water to it, along with the icing sugar. Once whipped, gently fold through 200g of the strawberries.  
To assemble the daquoise, layer the meringues with the whipped cream and strawberries, ending with the top. Decorate the top with more strawberries, chopped pistachios, rose petals and mint leaves. Sprinkle with icing sugar just before serving.