A rocket of a little leaf that packs a peppery punch to all it encounters!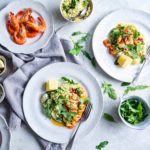 Ingredients
Rocket pesto:

A handful rocket

A handful basil

1 clove garlic

50g pine nuts

50g Parmesan, grated

1 lemon, juice of

150ml extra virgin olive oil

500g orzo

1 lemon, juice of

150g feta

150ml extra virgin olive oil

2 handfuls rocket leaves

450g king prawns

2 tbsp honey

2 cm piece fresh ginger, grated

2 cloves garlic, crushed

1 red chilli, finely diced

20g butter
Instructions
Make the rocket pesto by simply adding the ingredients to a blender and processing until a coarse paste. Add a little more olive oil if rede to loosen the mixture. Season well.
Bring a large saucepan of salted water to a boil and cook the orzo until al dente. Remove from the heat and place in a sieve to drain and then toss with the chives, crumbled feta, lemon juice, half the olive oil, half the rocket and seasoning. 
Meanwhile, add the remaining oil, honey, ginger, garlic and chilli to a bowl. Whisk with a fork to combine.
Take a large nonstick frying pan and add the prawns. Pour over the oil and honey mixture and toss to heat through. 
Divide the orzo between four plates along with the prawns. Spoon over any pan juices. Drizzle with the rocket pesto and serve immediately. 
Ways with rocket
Grilled cheese, rocket and apple sandwich
Sometimes simple things just work. Toast 2 slices of brown seedy bread. Spread both with butter and then add grated mature cheddar, a thin layer of sliced apple, a layer of rocket followed but a second layer of grated mature cheddar. Pop them under the grill until melted and then sandwich the pieces together for a fabulous grilled cheese sandwich. Pickle on the side wouldn't go amiss.