An elegant bundt to wow your guests (that's actually really easy).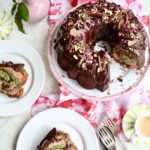 Ingredients
FOR THE CAKE
325g (12oz / 3 sticks) unsalted butter, melted
500g (17 1/2oz / 2 1/4 cups) caster sugar
5 eggs
1 tsp vanilla bean paste
360g (12 1/2oz / 3 cups) plain flour
2 tsp baking powder
100ml milk
50g (1 3/4oz / 1/3 cup) cocoa powder
75ml (2 1/2fl.oz / 1/3 cup) boiling water
50g pistachio paste
1 tsp rosewater
Pink and green food colouring
FOR THE CHOCOLATE GANACHE
100g dark/bittersweet chocolate
150ml double cream
1 tablespoon melted butter
1 tablespoon golden or corn syrup
FOR DECORATION
Chopped pistachios, edible roses and chocolate shavings to decorate
METHOD
Preheat your oven to 180c/350f/gas 4.
Brush a bundt tin with melted butter and lightly dust with flour, shaking off any excess.
Using an electric hand mixer combine the melted butter and sugar in a large bowl. Pour in the eggs and vanilla bean paste and continue to beat until fully incorporated.
Add a third of the flour and baking powder followed by half the milk, repeat, and then add the final third of flour. Beat until just combined.
Place a third of the mixture in a 3 separate bowls.
In a small bowl whisk together the cocoa powder and boiling water until you have a paste and add it to one third of the mixture, mixing well so the colour is even.
Add the rose water and pink colouring to the next third, and the pistachio paste and green colouring to the next. Mix each one well do the colour is uniform.
Spoon the different mixtures into the tin, layering the colours on top of one another. Keep repeating until you've used up all the mixture.  Drag a toothpick gently through to swirl the mixture.
Bake for around 50-55 minutes or until a skewer comes out clean.
Cool the bundt in the tin for 10 minutes and then invert onto a cooling rack.
Once the bundt has cooled prepare the ganache. Put the chocolate in a bowl with the butter and golden syrup. Heat the double cream to near boiling and then pour over the bowl of chocolate.  Leave for a few minutes to melt and then use a fork to mix until smooth.
Place a plate under the cooling rack and then pour the dark chocolate ganache over the bundt. Decorate with rose petals, chopped pistachios and chocolate shavings and serve.
This will keep for a few days in an airtight container.