These were created specifically for Spring when pastel colours work so well for both Easter and Mother's Day.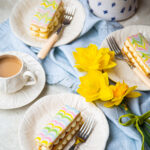 Ingredients
1 sheet puff pastry
FOR THE CREME PATISSIERE FILLING
300ml full fat milk
3 egg yolks
50g caster sugar
15g plain flour
15g cornflour
1 tsp vanilla bean paste
FOR THE TOP
300g icing sugar, sifted
30ml water
Pink, blue, green and yellow food colouring
METHOD
Preheat your oven to 200c/400f and prepare 2 baking trays with baking parchment.
Take the sheet of puff pastry and cut it into 12 even rectangles and arrange them on one of the prepared baking sheets. Take the second sheet of baking parchment and place it on top of the puff pastry rectangles and then put the second baking sheet on top of the puff pastry rectangles, this is to prevent them from puffing up. Bake for 20 minutes or until lightly golden and cooked through.Set aside to cool.
To make the filling, bring the milk and vanilla to simmering but just before boiling point in a saucepan. In a separate bowl whisk together the egg yolks, sugar and flours and then add the milk to the eggs little by little combining each addition as you go. Return to a clean saucepan and heat whilst continuously stirring. It will go lumpy at first but then become smooth. Set aside to cool completely. Whip the double cream and then fold it through the creme patissiere to lighten it. Put the filling into a piping bag and chill until ready to assemble. 
For the topping take a large bowl and 4 smaller ones. Mix the icing sugar and water in the large bowl until you have the consistency of toothpaste. You can alter the consistency simply by either adding more sifted icing sugar or more water. Place a spoonful into each into the smaller bowls and then add the colouring. Make the colours quite bright as they dilute once on the white base. You can either use piping bags, freezer bags with corners snipped off, or disposable paper piping bags to add the stripes. See here on how to make those. Place 4 of your puff pastry rectangles onto a wire rack with a plate below and then spoon over the white icing. Next take your piping bags and add the stripes. Use a toothpick to drag through and feather the colours. Leave to set or even chill in the refrigerator to speed the process up.
To assemble, take the first 4 rectangles of puff pastry and pipe rounds of the filling on. Add the second layer and do the same. Finally place the rainbow top on and press it gently down and serve.
You can refrigerate these and they will keep until the following day but they are best enjoyed on the day of making.