A lovely easy fish supper on one oven tray.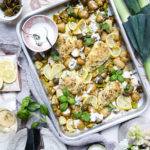 Ingredients
750g new potatoes

30ml rapeseed oil

4 haddock fillets

4 tsp mayonnaise

100g fresh white breadcrumbs

3 tbspn fresh parsley, chopped

2 cloves garlic, crushed

30g butter

500g leeks

3 tbspn pesto

1 lemon, juice of

30ml extra virgin olive oil

Seasoning

100ml Greek yoghurt

1 lemon, juice of

1 clove garlic, crushed

Seasoning

Fresh basil

Lemon slices
METHOD
Preheat your oven to 200c/400f/gas 6.
Place the new potatoes onto a roasting tray and toss with oil. Sprinkle over salt and roast in your oven for 25 minutes.
Pour the breadcrumbs into a bowl. Add the parsley, crushed garlic and butter and rub the butter in with your finger tips. Spread the mayonnaise over the surface of each haddock fillet and then sprinkle over the breadcrumbs. Take the new potatoes out of the oven and place the pieces of fish amongst them. Return the tray to the oven for 15 minutes.
Meanwhile, wash and prepare the leeks by cutting them into medium sized slices. Place them in a frying pan with a splash of oil and cook over a low heat until soft.
Take a small bowl and whisk together the pesto, lemon juice and extra virgin olive oil and set aside.
When the breadcrumbs are golden and the potatoes cooked through, remove the tray from the oven. Place the haddock fillets on warmed plates and then stir the leeks into the potatoes. Add the caper berries, mix again, and then pour over the pesto sauce. Divide between the plates and serve with the yoghurt sauce on the side, scattered with fresh basil and with slices of lemon.