Fresh and sweet and using tart blood oranges to create a delicious easy to make tart. We've made individuals but you could also make one larger one to be sliced.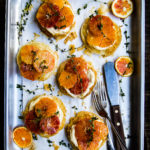 Ingredients
FOR THE BLOOD ORANGE CURD

2 blood oranges, juice and zest

100g caster sugar

50g butter

3 eggs

TO SERVE

1 sheet puff pastry

1 beaten egg

75g mascarpone

2 blood oranges, sliced

2 tbsp caster sugar
METHOD
Place the orange zest and juice in a saucepan with caster sugar and butter. Heat gently to melt the butter
Once all melted, whisk in the eggs, turn up the heat, and then whisk continuously for about 10 minutes.  
When the curd has thickened pass through a fine mesh sieve and refrigerate until ready to use.
Take a sheet of puff pastry and cut rounds from it. Brush lightly with beaten egg and score a frame within the circle. Bake for 20 minutes or until puffed and golden.
Mix a a few spoons of the orange curd with the mascarpone until smooth.
To serve, press the flaky pastry in the centre of the circles down and dollop with the mascarpone and blood orange curd. Arrange slices of the blood oranges on top, sprinkle with a little caster sugar and gently blow torch them to caramelise the orange slices. 
Optional: we scattered fresh time for something green.