We can't get enough of this easy yet completely delicious butter and cinnamon bundt. It's melt in the mouth and a great one for all the family.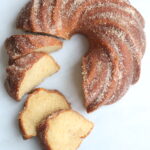 Ingredients
INGREDIENTS
TO PREPARE THE BUNDT PAN
15g (1 tablespoon/ 1/2 oz) butter, melted for greasing
15g (1 tablespoon/ 1/2 oz) plain flour
FOR THE CAKE BATTER
225g butter, softened
275g (10 oz) golden caster sugar
1 tsp vanilla essence
1 tsp ground cinnamon
A pinch of salt
4 eggs
225g (2 cups / 8 oz) self raising flour
100ml (1/2 cup / 4 oz) milk
FINISHING
50g (2 tablespoons / 1/2 stick / 2 oz) butter, melted
75g (5 tablespoons / 1/3 cup / 3 oz) golden caster sugar
1 tablespoon ground cinnamon
METHOD
Preheat your oven to 180c/170c fan/350f/gas 4. Melt the butter and then use a pastry brush to brush it evenly over the inside of your Bundt pan. I find it easier to brush from the base up to prevent any butter pooling. Sprinkle over the flour and tap from side to side so it is evenly distributed. Give a final upside down tap over a sink to remove the excess and your tin is ready.  
Place the softened butter and sugar into a large bowl and mix with hand beaters until pale and fluffy. Add the lightly beaten eggs, one at time, mixing to combine before adding another. Add the vanilla and mix briefly to combine. Add a third of the flour and mix briefly, then add half of the milk and mix. Repeat again and end with the final third of flour. Mix until just combined and smooth. Scrape the batter into the prepared bundt pan.

Bake for around 40 minutes or until a skewer comes out clean and the cake springs back to a light touch. Once baked place the bundt pan on a wire rack to cool for 10-15 minutes so the air can circulate. Invert onto a wire rack.

While the bundt is still warm use a pastry brush to brush the entire outside with melted butter. Combine the cinnamon with the sugar and then sprinkle it generously all over the whole bundt. Serve warm with vanilla ice cream.

Store in an airtight container for a few days.