We served this babka for afternoon tea, fresh from the oven, and with the kitchen smelling like a sweet cinnamon heaven.
It made quite the statement as it was set it down in parchment paper to slice at the table and serve with butter.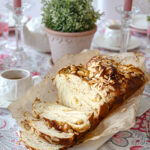 Ingredients
1 tsp vanilla extract
120ml whole milk, luke warm
7g active dry yeast (1 sachet)
500g plain flour
3 medium sized eggs (plus below)
75g caster sugar
Pinch of salt
85g unsalted butter, cut into cubes, at room temperature
1 egg, beaten to brush before baking
100g flaked almonds
For the filling
50g unsalted butter
100g soft brown sugar
2 tsp ground cinnamon
6 apples, peeled and cut into small dice
Apricot glaze
50g apricot jam
1 tbsp water
METHOD
To the bowl of a stand mixer fitted with a dough hook, add the vanilla extract and luke warm milk and then sprinkle over the yeast. Leave for around 15 minutes when it should be frothy. (If there are no bubbles your yeast may no longer be active, in which case you need to start again).
With the stand mixer set on a low speed add the flour in a few batches. Once it's been fully mixed, add the eggs one at a time, pausing between each addition to make sure there're fully incorporated. Add the caster sugar, then the salt, again mixing well. Finally, take the butter and add it one cube at a time. Mix between each piece being added. Put the mixer onto a higher speed and mix until smooth.
Remove from the stand mixer and knead by stretching and pulling to ensure its ready to rest. It should stretch to your shoulder if the gluten has developed. Shape the dough into a ball and place in a lightly oiled bowl covered with cling film. Leave to rise in a warm place until doubled in size, about an hour.
Meanwhile, prepare the filling but melting the butter in a frying pan and the adding the sugar. Heat until you have a syrupy consistency and then add the diced apple and cinnamon and toss to coat in the caramelised sugar. Cook for around 5 minutes so the apple is almost soft. Tip the filling into a cold bowl, cover with cling film and then to chill in your refrigerator.
Take the dough and roll it out on a large piece of cling film into a rectangle or around 30cm x 40cm. Cover with second layer of cling film and refrigerate for at least an hour or up to 24 hours.
Remove the dough from the fridge. Roll it out a little further and then spread them with the apple filling. Starting from the longer side roll the dough up and then cut vertically from top to bottom so you can see the flayed stripes. Plait them together and fold the ends under before placing in the prepared tin. Cover loosely with cling film and leave to rise until the dough is a couple of cm above the edge of the tin, about 30 minutes.
Brush the dough with beaten egg, sprinkle the almonds over and then bake in your oven, middle shelf, for around 25 minutes.
Place the apricot jam and water in a small bowl and microwave until runny. Pass through a sieve.
Remove your babka from the oven while it's piping hot brush the apricot glaze all over.
Serve warm with butter.