Rainbow bagels are a MUST in these unusual times.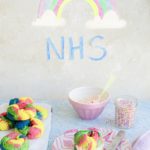 Ingredients
7g dried active yeast
300ml luke warm water
500g strong plain flour (plus more for kneading)
2 tbsp golden caster sugar
1 tsp salt
4 different food colouring colours, I use PME colour pastes
Cream cheese and funfetti or 100's and 1000's for the filling
Vegetable oil to lightly grease the bowls.
Instructions
Fill a jug with the luke warm water and then pour in the yeast to activate and lightly froth.

To the bowl of a stand mixer fitted with a dough hook add the flour, sugar and salt and then pour in the yeast mixture. Set the mixer to a medium setting and mix for 10 minutes, scraping down the sides every few minutes. The mixture will be quite sticky so scatter flour on a clean surface and then tip out the dough. Bring it together and use a knife to cut it in 4 pieces. 

Take each quarter and add a little food colouring to it and then knead so the colour runs uniformly through the whole piece of dough. Shape into a neat ball and then place in a bowl lightly brushed with vegetable oil. Cover with cling film and repeat with the remaining balls of dough. Place them in a warm place to double in size, about an hour.

Take each coloured dough and roll into a rectangle and then place them one on top of the other. Roll them all up and then cut into 8 pieces. Roll each one between your palms to make smooth rainbow balls and then place them on a baking parchment lined baking tray. Cover with cling film and leave for 10 minutes.

Meanwhile, bring a large pan of water to the boil and preheat your oven to 160c/ 320f/gas3.

Take the bagels and push a floured finger through the centre of each. Really wiggle your finger around to make sure the hole is properly formed and then drop them, a couple at a time, into the boiling water. Cook them for 30 seconds on each side and then return them to the baking tray.

Bake in the oven for around 25 minutes.

Cool the bagels on a wire rack before halving and filling with cream cheese and funfetti.

PS The naughty version of the filling means adding some icing sugar and a little softened butter to the cream cheese to make a "cream cheese frosting".